Back in 2007, when we first started this blog and were pumping out 30 to 50 of these posts a month, one of the movies I did was
"Mars Needs Women,"
a super cheapo Larry Buchanan TV movie made in T for Texas. Since I was focused mostly on the music back them, a strip club with some sleazy bump and grind music by Ron Stein was very appealing to me. The dancer in the club was a woman named Bubbles Cash (No relation to Johnny) who is quite a legend in Dallas. Bubbles' daughter Keiley Mink left a comment 10 years later, and told me I had the info on her Mom incorrect, and while I was in the process of correcting it, I found this piece of damn interesting information:
According to the website
Flocheer.com,
Bubbles Cash was the reason we have the Dallas Cowboy Cheerleaders today, and here's how the story goes:
"Dallas Cowboys general manage Tex Schramm had a revolutionary inspiration in 1967.
During a Cowboys game against the Atlanta Falcons at the Cotton Bowl, a popular local stripper named Bubbles Cash caused a sensational buzz in the crowd when she walked down the stadium stairs, provocatively dressed, at the 50-yard line carrying cotton candy in each hand.
Schramm decided then and there that his Cowboys needed a cheerleading team dressed similarly to Cash. In 1969, the men were dropped from the "Cow Belles and Beaux," and the squad became known as the Dallas Cowboys Cheerleaders, each year recruiting new members."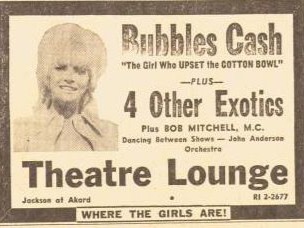 A newspaper ad featuring exotic dancer Bubbles Cash.
You can watch the whole enchilada that is "Mars Needs Women" for free on YouTube! It comes with French sub-titles at no extra cost! It's truly amazing how many of the classic old monster and Sci-Fi movies stream for free on YouTube these days like "Devil Girl From Mars," "The Phantom Planet," "Frankenstein Meets The Space Monster," "Journey To The Seventh Planet," "Day Of The Triffids," "Fiend Without A Face," "It Conquered The World," "The Space Children," "This Island Earth," "Teenagers From Outer Space," "The Giant Claw," "Them," "Invasion Of The Saucer Men etc. etc. etc....No wonder nobody wants to go to work any more!!
The IMDB says that Bubbles was in two other movies besides"Mars Needs Women" in 1967 titled "Hit Hop And 21," and "Hot Thrills And Warm Chills, but Bubbles says she wasn't in those movies, but she was in a movie with her and a lot of water called "Swamp Lust," and a documentary called "Mondo Texas," that I also can't find out any information about, but we're talking about 1960's Texas indie film making, so anything is possible!
Bubbles ran for Governor of Texas as a write-in candidate in 1990 and came in fourth place with 3,275 votes!
Since this was a made for TV movie, this is as far as the show goes!
Keiley also sent this along and it really shows what a tightwad Larry Buchanan was. It took the company seven years to issue a check for $29.00 for Bubbles' scene!
Keiley also said that Bubbles was interviewed in this impossible to find documentary about "The Sex Pistols" called "D.O.A.: A Rite Of Passage," and since it sells on Amazon for 100 bucks, we're just gonna have to take her word for it!
There is also
an interesting article
from WFMU written by Josh Alan Friedman about Jack Ruby, the man who shot the man who shot Kennedy, that has some quotes from Bubbles, because she worked in the same area where Jack Ruby's club was!
Bubbles gives out a trophy at a Karate tournament!
Bubbles Cash! A National Treasure!
Mars doesn't need women like her, Earth needs more women like her!